Theatre Info
The Koger Center is wholly owned and operated by the University of South Carolina and presents a varied season of events each year. In addition to its own seasonal presentations, the Koger Center plays host to a large number of community groups and commercial sponsors.
The Koger Center Calendar Year runs from July 1st to June 30th each year.
Seating Chart
Download the Koger Center Seating Chart PDF
Directions and Map
The Koger Center is located on the campus of the University of South Carolina at the corner of Assembly Street and Greene Street.
Koger Center for the Arts
1051 Greene Street
Columbia, SC 29201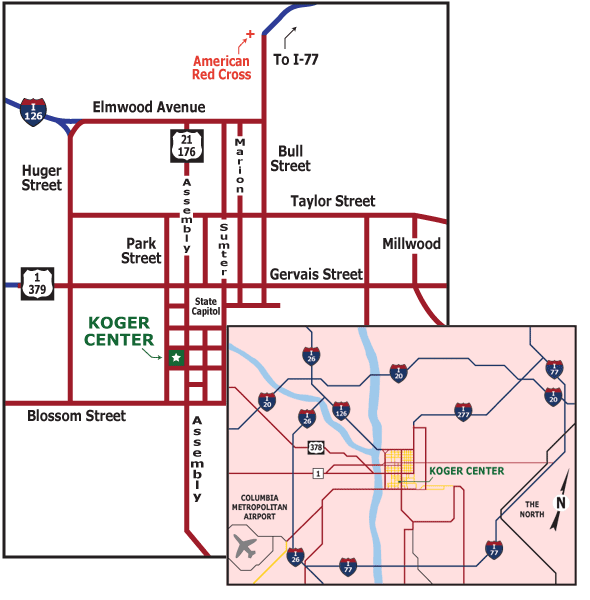 Parking Information
The only parking available at the Koger Center is handicapped parking. These spaces are limited and guests are advised to arrive early if they wish to secure a spaces. Parking in these spaces requires a handicapped decal. Guests who park without a decal risk having their vehicle towed. A fine of $100.00 is levied by the USC Police Department for illegally parking, and a fee of approximately $45.00 is charged by the towing company.
For most events, additional handicapped parking is available at the meters on the west side of Assembly Street between College and Greene Streets, and on both sides of College Street between Assembly and Park Streets. Parking attendents are available to help guests with handicapped parking.
There is a Drop Off Zone on the Assembly Street side of the building. This is particularly helpful during inclement weather, when Guests can drop off and pick up passengers close to the doors. Parking is not permitted in the drop off zone.
There is on-street parking around the Koger Center, free after 6:00 p.m. and all day Sunday. Additionally, there are parking lots behind the Carolina Coliseum; these lots are available during the evenings only. During the evenings, parking lot attendants are often stationed at this lot and a fee of $5.00 is charged.
Parking is at a premium when events are taking place at the Koger Center and/or the Carolina Coliseum and Colonial Center simultaneously. Guests are advised to allow extra time to find a parking place when this happens.