Theatre Info
The Koger Center is wholly owned and operated by the University of South Carolina and presents a varied season of events each year. In addition to its own seasonal presentations, the Koger Center plays host to a large number of community groups and commercial sponsors. The Koger Center Calendar Year runs from July 1st to June 30th each year.
HEALTH & SAFETY UPDATES:
The Koger Center for the Arts is committed to providing a safe and healthy space for our patrons, employees and the organizations and artists that perform here. During this time in which health concerns are at a heightened level due to the rapidly changing situation regarding COVID-19 we are doing everything within our power to maintain this safe environment. We know that many of you have questions about the upcoming season and what the experience of attending a live performance at the Koger Center will be like. Please rest assured, all decisions regarding the necessary protocols and policies for the health and safety of our audiences will be guided by medical and public health advice and will comply with local government regulations. We will communicate details about health and safety protocols at the Koger Center as we get closer to the first production of the 2020-2021 season.
Seating Chart
Download File (Koger Center Seating Chart PDF)
Directions and Map
The Koger Center is located on the campus of the University of South Carolina at the corner of Assembly Street and Greene Street.
Koger Center for the Arts
1051 Greene Street
Columbia, SC 29201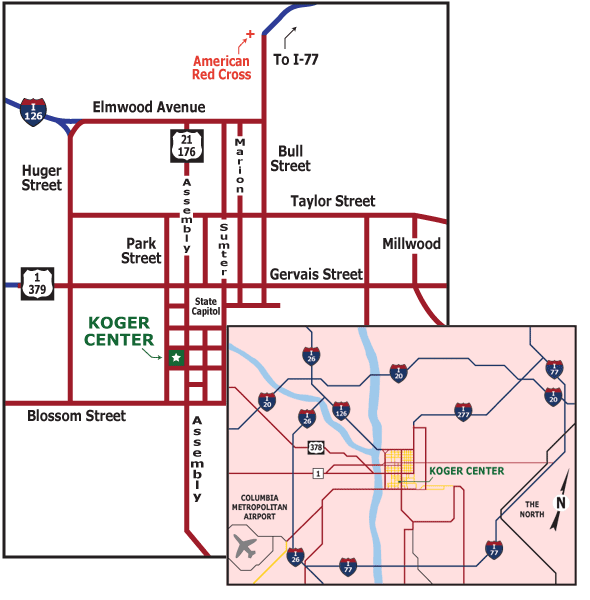 Parking Information
General Parking
General parking for the Koger Center is available in the parking garages at 1007 Park Street and at 821 Park Street (Innovista Parking), and in the two general USC parking lots.
1007 Park Street Garage is located next to SCDOT
821 Park Street Garage is located behind the Koger Center on the corner of Park and College Streets.
The general parking lots are located between Lincoln and Gadsden Streets and Greene and Blossom Streets.
For ticketed events, there is a $10.00-$20.00 charge for parking in these areas.
Accessible Parking
There are a limited number of ADA spaces in front of the Koger Center at the drop off area.
During ticketed events, the metered parking spaces on Assembly Street in front of the Koger Center and on College Street are bagged and reserved as accessible parking as well.